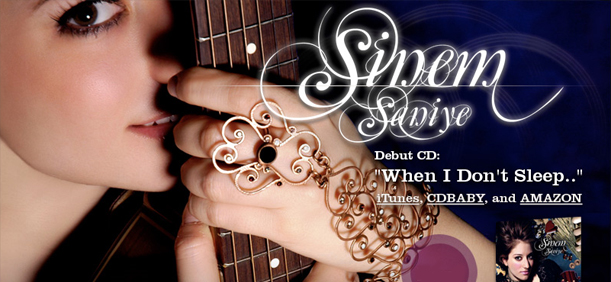 Katıldığı Indi Müzik TV şarkı yarışmasında "Are We in Love" parçası ile birinci olarak bir anda ABD'deki Türklerin ilgi odağı haline gelen Sinem Saniye, ABD'de konser turunu çıkıyor. 10 Mart'ta North Carolina'nın Durham şehrinde konser turuna başlayacak olan Sinem Saniye, sırasıyla Birmingham, (AL), Dallas (TX), Denver (CO), Los Angeles (CA), Taping Berkeley (CA) ve Chicago'da (IL) sahne alacak. 1 Mayıs'ta sona erecek turne kapsamında sevenleri ile buluşacak olan Saniye'nin, son olarak Delta Airlines'ın uçaklarında da parçaları çalınmaya başlanmıştı. (Foto: Cem Sönmez)
KONSER PROGRAMI
10 Mart 2010 - 7:30P TBA - Durham, North Carolina
13 Mart 2010 - 9:30P Matthews Bar and Grill - Birmingham, Alabama!
15 Mart 2010 - 7:00P Backbeat Cafe & Listening Room - Dallas, Texas!
2 Nisan 2010 - 7:00P The Walnut Room- Time TBA - Denver, Colorado!
18 Nisan 2010 - 8:00P Hotel Cafe - Los Angeles, California!
1 Mayıs 2010 - 12:00P - Yeah Live! TV Taping Berkeley, California
15 Mayıs 2010 - 10PM Goose Island Wrigleyville - Chicago, IL!