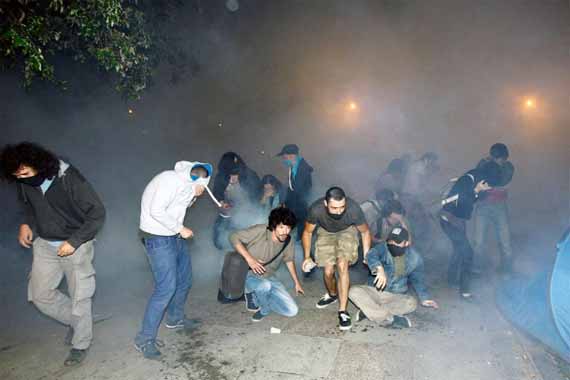 Taksim Gezi Parkı'ndaki ağaçların kesilerek yayalaştırma ve AVM projesi geliştirilmesine karşı çıkan grubun başlattığı eylemler devam ediyor. 27 Mayıs'tan beri devam eden gösterilere üç kez polis müdahele etmesinin ardından uluslararası kamuoyunun dikkatini bölgeye çekmek için sivil toplum kuruluşlarının çalışmaları da devam ediyor. New York'ta ve Washington, DC'de 1 Haziran Cumartesi günü 12.00'de bir araya gelerek Taksim'deki olayları protesto etmek isteyenler sosyal medyada örgütleniyor.


New York'ta bir araya gelmek için İngilizce olarak duyurulan bildiride, Gezi Parkı'nda son 4 dört günde yaşananların videoları ve haber sitelerinde çıkan haberler paylaşıldı. Buluşma mekanı için iki ayrı mekan üzerinde Facebook üzerinden de anket yapılırken, New York polisinden gösteri için önceden izin alınmamış olmaması yasal açıdan sıkıntı yaşanacağı endişesi yaratıyor.
Washington, DC'deki bir grup Türk de Beyaz Saray Lafayette Park'ta 15.00pm'e bir araya gelerek Taksim'deki olayları protesto etmeye hazırlanıyor. Protestoyu organize eden Yurter Özcan, facebook profilinde paylatığı mesajda, ''Yarın (Cumartesi) Taksim Gezi Parkı'ndaki kardeşlerimize destek olmak ve beraberliğimizi göstermek için Washington'daki Türkler olarak biz de toplanıyoruz. Saat: 15.00 Yer: Beyaz Saray Lafayette Park Irtibat: Yurter Ozcan cep: 804-868-0123'' bilgisine yer verdi.
Bu arada New York'ta okuyan bir grup Türk öğrenci, New York'un gözde parklarından Bryant Park'ta Amerikalıları konuşturarak çektikleri video ile Gezi Parkı'na destek gönderdiler. İşte o video.
New York'taki grubun yayınlanan İngilizce bildirisi şöyle:
''International Human Rights Organizations and Dear Friends, Comrades, Press Members from all over the world;
This is an urgent call from human rights defenders, activists, NGOs, professional chambers, grassroots, neighborhood associations and Istanbulites.
Since the 27th of May, Istanbulites from all social and political backgrounds and ages and from all over the city had been continuing a peaceful resistance in Gezi Park, the city's largest public park, soon to be demolished due to a so-called renewal project. This Project foresees the erection of a big mall (designed as the replica of the once Ottoman Artillery Barracks) in the place of those trees.
http://www.youtube.com/watch?v=RgBRGl341ZA
http://www.bianet.org/english/english/147016-demonstrators-plant-trees-against-destruction-in-taksim-gezi-park
The police intervened in the park 3 times, each more violent than the other:
The first intervention was in the morning of May 28th, a crowd of about 50 protestors were tear-gassed directly in their faces.
http://stream.aljazeera.com/story/201305302148-0022796
In solidarity with the protestors, hundreds arrived in the evening and the occupation movement grew bigger. Right afterwards, the second intervention came early in the morning of May 30th at 5 am. The riot police set fire to the tents and tear gas and pepper sprays were used incessantly, causing serious injuries.
http://www.youtube.com/watch?v=suEVcTIpzxA&list=UUNwGZGYteEB64ywTGCn0w2g&index=2
http://www.hurriyetdailynews.com/protester-to-undergo-surgery-after-morning-police-intervention-at-taksim-park--.aspx?pageID=238&nID=47878&NewsCatID=341
Against this inhumanity and extreme violence, the reaction was the occupation of the park, this time by thousands.
And this morning proved to be the culmination of violence and barbarism that no words can describe, with an unproportional use of force. The exit of the park was blocked by the police, thus locking the group in the park. The protester were then taken under crossfire of tear gas and pepper bombs, nearly getting choked to death. The only way out was by breaking the walls and many were wounded during this escape.
http://www.hurriyetdailynews.com/protester-to-undergo-surgery-after-morning-police-intervention-at-taksim-park--.aspx?pageID=238&nID=47878&NewsCatID=341.
At the moment, brutal intervention against the protestors continues. The group has been pepper-sprayed and tear-gassed once more as they were leaving the area after reading their press call! At the moment, some are in Divan Hotel at Elmadag, having taken refuge there from the effect of the gas attacks.
Literally, almost all of Taksim Area, where Gezi Park is, is tear-gassed and
pepper gas-sprayed; especially the side streets around Taksim Square are under clouds of gas.
Dear friends, we believe we need nothing else to add; the scenes talk for themselves.
The resistance for democracy and human rights will not be terminated; we are determined to continue our struggle against a government determined to crush each and every opposition, a government that cannot tolerate even a peaceful opposition for saving trees. The present Turkish government has violated all international human rights conventions and mechanisms it is a party to.
Your valuable support and solidarity will indeed fortify our determination and resistance. Please share this news, name it and shame and blame the responsibles so that this insanity and brutality practiced against human rights defenders can be terminated through international pressure.''