Türkiye Kadın Girişimciler Derneği (KAGİDER), Türk kadınının teknoloji alanındaki yerini anlatmak üzere Birleşmiş Milletler'e özel bir panele katılmak üzere New York'a geliyor. Dernek, bu yıl 57.si düzenlenen Birleşmiş Milletler Kadının Statüsü Komisyonu (Commission on The Status of Woman United Nations) etkinliğine katılıyor. Birleşmiş Milletler'de gerçekleştirilecek toplantıda KAGİDER Başkanı Gülden Türktan, Vofadone Türkiye'nin CEO'su Serpil Timuray'ın yanı sıra Vodafone Foundation'un başkanı Andrew Dunnett, Aileden ve Sosyal Politikalardan Sorumlu Devlet Bakanı Fatma Şahin ve Huffinton Post'un kurucusu Ariana Huffington konuşması olarak yer alacak. Toplantıda Türkiye Vodafone Vakfı'nın KAGİDER ortaklığında kadınlara sosyal ve ekonomik hayatta fırsat eşitliği sağlamak hedefiyle hayata geçirdiği "Teknolojide Kadın Hareketi" Projesi'nin de anlatılacak.
Panel ile ilgili detaylı bilgiler şöyle:
KAGIDER Panel Event Within the 57th Session of the United Nations Commission on the Status of Women
Technology and Women Empowerment,
Women's Movement in Technology
BEST PRACTICE IMPLEMENTED BY VODAFONE TURKEY, KAGIDER AND TURKISH INFORMATICS FOUNDATION
05 March 2013
16:30-17:30
Church Center for the United Nations, 11th Floor, Hardin Room 777 UN Plaza, New York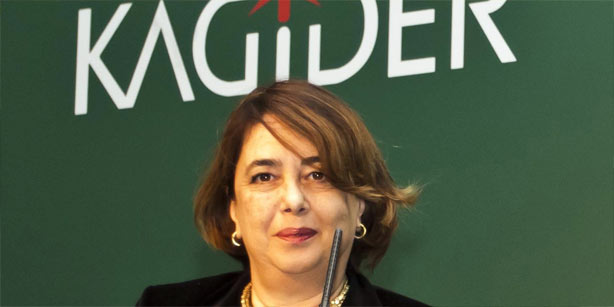 Program:
16:30-16:35 Registration
16:35-16:45 Gulden Turktan, KAGIDER President, "KAGIDER's involvement in women's empowerment via technology"
16:45-16:55 Hasan Suel, (TBC) Vodafone Turkey Foundation President "MWomen and Women's Movement in Technology Projects, Why Vodafone empowers women?".
16:55-17:05 Yesim Sevig, KAGIDER Secretary General, "Research on Women's technology usage, how to empower Turkish women via technology"
17:05-17:15 Sanem Oktar Ogut, directComm CEO, KAGIDER Member, "Technology training for women, experiences of a trainer in Women's Movement in Technology Project"
17:15-17:30 Q&A
RSVP :
This email address is being protected from spambots. You need JavaScript enabled to view it.
or +90 543 2170461