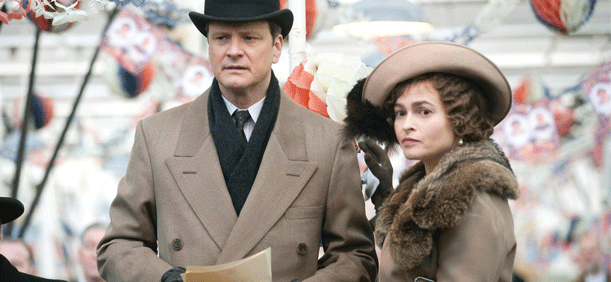 83. Oscar Ödülleri, Los Angeles Kodak Theatre'de düzenlenen törenle sahiplerini buldu. Sunuculuğunu Anne Hathaway ve aynı zamanda "En İyi Erkek Başrol Oyuncusu" dalında aday olan James Franco'nun sunduğu gecede, "The King's Speech" film aday olduğu 12 daldan, dördünde ödül kazandı. İngiliz Kralı George VI'nın kekemeliğini yenmek için harcadığı çabayı konu alan film, "En İyi Film", "En İyi Aktör", "En İyi Yönetmen" ve "En İyi Orjinal Senaryo" ödüllerini aldı. Facebook'un kuruluşunu konu alan "The Social Network" filmi de "En İyi Müzik", "En İyi Kurgu" ve "En İyi Uyarlama Senaryo" dallarında ödül aldı. Törene hamile olarak katılan "Black Swan" filminin başrol oyuncusu Natalie Portman da, Golden Globe ve SAG'tan sonra Oscar'da da "En İyi Kadın Oyuncu" Oscar'ını aldı. Oscar'da Red Carpet üzerinde birbirinden güzel kıyafetler ile boy gösteren film dünyasının aktör ve aktristleri, kıyafetleri ile göz kamaştırdı. Gecenin sunucusu Anne Hathaway, gece boyunca 10'a yakın kostüm değiştirdi. Ancak Oscar seyircileri bu yılın sunucularından memnun kalmadı.
Bu yıl adaylar arasında hiç siyahi sinema sanatçısı olmaması da, Afro-Amerikalılar tarafından eleştirildi. "The King's Speech" filminin yönetmeni Tom Hooper ödülünü aldıktan sonra filmin senaryosunu annesinin kendisi için bulduğunu, annesinin dinlemesinin ödülünü aldığını söyledi. Aynı filmde "En İyi Orjinal Senaryo" Oscar'ını alan David Seidler, bu ödüle layık görülen en ihtiyar kişi olduğunu söyledi. 73 yaşındaki Seidler, ''Umarım bu rekor sıklıkla ve çabucak kırılır,'' diye konuştu.
"En İyi Aktör" Oscar'ını alan Colin Firt, kariyerinde zirveye ulaştığını söyledi. Golden Globe ve SAG ödüllerinde "En İyi Yardımcı Kadın Oyuncu" ödülünü alan Christian Bale, The Fighter'daki rolü ile Oscar'ı da aldı.
The Fighter filminde iki boksörün annesi ve menejeri rolünü canlandıran Melissa Leo, Oscar'ını 94 yaşındaki usta oyuncu Kurt Douglas'tan aldı.
Sahneye bastonu ile gelen Douglas, gecenin sunucusuna, ''Ben film çekerken, sen nerelerdeydin,'' diye takıldı. Esprileri ile salonu kahkahata boğan Douglas, ödülü alan adayı da gecikmeli olarak açıkladı. Melissa Leo, sahnede ödülü alırken küfürlü konuştuğu için sansürlendi.
İnsan aklından geçenlerle rüyalarını konu alan "Inception" filmi de hepsi teknik alanlarda olmak üzere 4 Oscar kazandı. "Inception", "En İyi Görüntü Yönetmeni", "En İyi Ses Miksajı", "En İyi Ses Montajı" ve "En İyi Görsel Efekt" alanlarında Oscar kazandı.

Üç dalda aday olan Toy Story 3 animasyon filmi de, "En İyi Animasyon" ve "En İyi Orjinal Şarkı" kategorilerinde Oscar aldı.

Kısa animasyon film dalında "The Lost Thing" Oscar alırken, 1969 yılında John Wayne tarafından beyaz perdeye aktarılan "True Grit", 10 dalda Oscar'a aday olmasına rağmen ödül aladı.
"Alice in Wonderland", "En İyi Kostüm" ve "Sanat Yönetmeni" dallarında Oscar aldı.
83. OSCAR ÖDÜL TÖRENİ'NDE ADAY OLANLAR VE KAZANANLAR İSE ŞÖYLE

Yılın En İyi Filmi: King Speech

Diğer Adaylar:
127 Hours (2010): Christian Colson, Danny Boyle, John Smithson
Black Swan (2010): Mike Medavoy, Brian Oliver, Scott Franklin
The Fighter (2010): David Hoberman, Todd Lieberman, Mark Wahlberg
Inception (2010): Christopher Nolan, Emma Thomas
The Kids Are All Right (2010): Gary Gilbert, Jeffrey Levy-Hinte, Celine Rattray
The King's Speech (2010): Iain Canning, Emile Sherman, Gareth Unwin
The Social Network (2010): Scott Rudin, Dana Brunetti, Michael De Luca, Ceán Chaffin
Toy Story 3 (2010): Darla K. Anderson
True Grit (2010): Ethan Coen, Joel Coen, Scott Rudin
Winter's Bone (2010): Anne Rosellini, Alix Madigan

En İyi Başrol Oyuncusu: Colin Firth - The King's Speech (2010)

Diğer Adaylar:
Javier Bardem - Biutiful (2010)
Jeff Bridges - True Grit (2010)
Jesse Eisenberg - The Social Network (2010)
James Franco - 127 Hours (2010)

En İyi Başrol Aktris: Natalie Portman - Black Swan (2010)

Diğer Adaylar:
Annette Bening - The Kids Are All Right (2010)
Nicole Kidman - Rabbit Hole (2010)
Jennifer Lawrence - Winter's Bone (2010)
Michelle Williams - Blue Valentine (2010)

En İyi Yardımcı Erkek Oyuncu: Christian Bale - The Fighter (2010)

Diğer Adaylar:
John Hawkes - Winter's Bone (2010)
Jeremy Renner - The Town (2010)
Mark Ruffalo - The Kids Are All Right (2010)
Geoffrey Rush - The King's Speech (2010)

En İyi Yardımcı Kadın Oyuncu: Melissa Leo - The Fighter (2010)

Diğer Adaylar:
Amy Adams - The Fighter (2010)
Helena Bonham Carter - The King's Speech (2010)
Hailee Steinfeld - True Grit (2010)
Jacki Weaver - Animal Kingdom (2010)


En İyi Yönetmen: Tom Hooper (The King's Speech) (2010)

Diğer Adaylar:
Darren Aronofsky - Black Swan (2010)
Ethan Coen - Joel Coen True Grit (2010)
David Fincher - The Social Network (2010)
David O. Russell - The Fighter (2010)

En İyi Orjinal Senaryo: The King's Speech (2010) - David Seidler

Diğer Adaylar:
Another Year (2010): Mike Leigh
The Fighter (2010): Scott Silver, Paul Tamasy, Eric Johnson, Keith Dorrington
Inception (2010): Christopher Nolan
The Kids Are All Right (2010): Lisa Cholodenko, Stuart Blumberg

En İyi Uyarlama Senaryo: The Social Network (2010): Aaron Sorkin

Diğer Adaylar:
127 Hours (2010): Danny Boyle, Simon Beaufoy
Toy Story 3 (2010): Michael Arndt, John Lasseter, Andrew Stanton, Lee Unkrich
True Grit (2010): Joel Coen, Ethan Coen
Winter's Bone (2010): Debra Granik, Anne Rosellini

En İyi Animasyon: Toy Story 3 (2010): Lee Unkrich

Diğer Adaylar:
How to Train Your Dragon (2010): Dean DeBlois, Chris Sanders
The Illusionist (2010): Sylvain Chomet

En İyi Yabancı Film: In a Better World (2010) - Susanne Bier(Denmark)

Diğer Adaylar:
Biutiful (2010): Alejandro González Iñárritu(Mexico)
Dogtooth (2009): Giorgos Lanthimos(Greece)
Incendies (2010): Denis Villeneuve(Canada)
Outside the Law (2010): Rachid Bouchareb(Algeria)

En İyi Görüntü Yönetmeni: Inception (2010) - Wally Pfister

Diğer Adaylar:
Black Swan (2010): Matthew Libatique
The King's Speech (2010): Danny Cohen
The Social Network (2010): Jeff Cronenweth
True Grit (2010): Roger Deakins

En İyi Kurgu: The Social Network (2010): Kirk Baxter, Angus Wall

Diğer Adaylar:
127 Hours (2010): Jon Harris
Black Swan (2010): Andrew Weisblum
The Fighter (2010): Pamela Martin
The King's Speech (2010): Tariq Anwar

En İyi Sanat Yönetmeni: Alice in Wonderland (2010): Robert Stromberg, Karen O'Hara

Diğer Adaylar:
Harry Potter and the Deathly Hallows: Part 1 (2010): Stuart Craig, Stephenie McMillan
Inception (2010): Guy Hendrix Dyas, Larry Dias, Douglas A. Mowat
The King's Speech (2010): Eve Stewart, Judy Farr
True Grit (2010): Jess Gonchor, Nancy Haigh

En İyi Kostüm: Alice in Wonderland (2010) - Colleen Atwood

Diğer Adaylar:
I Am Love (2009): Antonella Cannarozzi
The King's Speech (2010): Jenny Beavan
The Tempest (2010/II): Sandy Powell
True Grit (2010): Mary Zophres

En İyi Makyaj: The Wolfman (2010): Rick Baker, Dave Elsey

Diğer Adaylar:
Barney's Version (2010) - Adrien Morot
The Way Back (2010) - Edouard F. Henriques, Greg Funk, Yolanda Toussieng

En İyi Müzik: The Social Network (2010): Trent Reznor, Atticus Ross

Diğer Adaylar:
127 Hours (2010): A.R. Rahman
How to Train Your Dragon (2010): John Powell
Inception (2010): Hans Zimmer
The King's Speech (2010): Alexandre Desplat

En İyi Özgün Beste: Toy Story 3 (2010): Randy Newman("We Belong Together")

Diğer Adaylar:
127 Hours (2010): A.R. Rahman, , Dido("If I Rise")
Country Strong (2010): Tom Douglas, Hillary Lindsey, Troy Verges("Coming Home")
Tangled (2010/I): Alan Menken, Glenn Slater("I See the Light")

En İyi Ses Miksajı: Inception (2010): Lora Hirschberg, Gary Rizzo, Ed Novick

Diğer Adaylar:
The King's Speech (2010): Paul Hamblin, Martin Jensen, John Midgley
Salt (2010): Jeffrey J. Haboush, William Sarokin, Scott Millan, Greg P. Russell
The Social Network (2010): Ren Klyce, David Parker, Michael Semanick, Mark Weingarten
True Grit (2010): Skip Lievsay, Craig Berkey, Greg Orloff, Peter F. Kurland

En İyi Ses Montajı: Inception (2010): Richard King

Diğer Adaylar:
Toy Story 3 (2010): Tom Myers, Michael Silvers
TRON: Legacy (2010): Gwendolyn Yates Whittle, Addison Teague
True Grit (2010): Skip Lievsay, Craig Berkey
Unstoppable (2010): Mark P. Stoeckinger

En İyi Görsel Efekt: Inception (2010): Chris Corbould, Andrew Lockley, Pete Bebb, Paul J. Franklin

Diğer Adaylar:
Alice in Wonderland (2010): Ken Ralston, David Schaub, Carey Villegas, Sean Phillips
Harry Potter and the Deathly Hallows: Part 1 (2010): Tim Burke, John Richardson, Christian Manz, Nicolas Aithadi
Hereafter (2010): Michael Owens, Bryan Grill, Stephan Trojansky, Joe Farrell
Iron Man 2 (2010): Janek Sirrs, Ben Snow, Ged Wright, Daniel Sudick

En İyi Belgesel: Inside Job (2010): Charles Ferguson, Audrey Marrs

Diğer Adaylar:
Exit Through the Gift Shop (2010): Banksy, Jaimie D'Cruz
GasLand (2010): Josh Fox, Trish Adlesic
Restrepo (2010): Tim Hetherington, Sebastian Junger
Waste Land (2010): Lucy Walker, Angus Aynsley

En İyi Belgesel (Kısa): Strangers No More (2010): Karen Goodman, Kirk Simon

Diğer Adaylar:
Killing in the Name (2010): Jed Rothstein
Poster Girl (2010): Sara Nesson, Mitchell Block
Sun Come Up (2010): Jennifer Redfearn, Tim Metzger
The Warriors of Qiugang (2010): Ruby Yang, Thomas Lennon

En İyi Kısa Film (Animasyon): The Lost Thing (2010): Shaun Tan, Andrew Ruhemann

Diğer Adaylar:
Day & Night (2010): Teddy Newton
The Gruffalo (2009) (TV): Jakob Schuh, Max Lang
Let's Pollute (2011): Geefwee Boedoe
Madagascar, a Journey Diary (2010): Bastien Dubois

En İyi Kısa Film: God of Love (2010): Luke Matheny

Diğer Adaylar:
The Confession (2010/IV): Tanel Toom
The Crush (2010): Michael Creagh
Na Wewe (2010): Ivan Goldschmidt
Wish 143 (2009): Ian Barnes, Samantha Waite