Turkey's strategic location is very attractive for investors. It has a relatively new and highly developed technological infrastructure in transportation, telecommunications, and energy.
Infrastructure
ENERGY INFRASTRUCTURE
Energy Strategy
Turkey's strategy in the energy sector is to provide consumers with security and higher service quality.
In addition to unused energy resources such as hydraulic power and lignite, Turkey's renewable energy potential is a great opportunity for investors. The Law on Utilization of Renewable Energy Sources for the Purpose of Generating Electrical Energy (No. 5346) dated May 10, 2005 encourages these types of investments and makes them even more attractive.
Energy Infrastructure

Unit

2008




 

 

Primary Energy

Production

BTEP

27,500

Consumption

BTEP

106,000

Per Capita Consumption

KEP

1,485

Electricity Energy

Installed Capacity

MW

41,745

• Thermal

MW

12,525

•Hydraulic Power & Geothermal & Wind

MW

29,220

Generation (Gross)

GWh

198,570

• Thermal

GWh

164,400

•Hydraulic Power & Geothermal & Wind

GWh

34,170

Import

GWh

790

Export

GWh

1,065

Consumption (Gross)

GWh

198,295

Per Capita Consumption ( Gross)

KWh

2,775

BTEP: Billion Tons Equivalent Petroleum
KEP: Kilogram Equivalent Petroleum
GWh: Gigawatt Hour
Source: Ministry of Energy and Natural Resources & TEIAS


1.a. The Distribution of Installed Capacity by Electric Utilities (2007)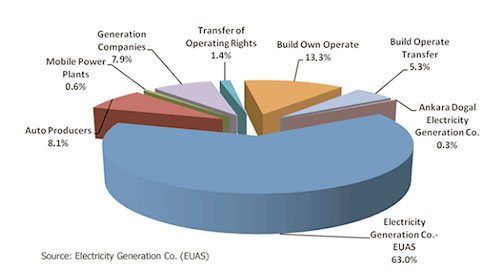 1.b. The Distribution of Installed Capacity by Primary Energy Resources (2007)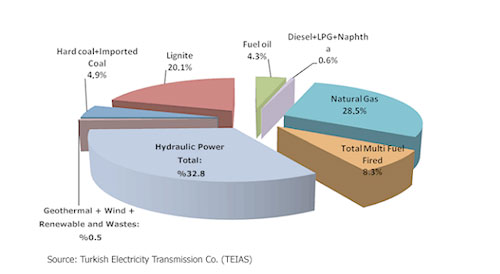 1.c. Industrial Electricity Prices in Turkey and the EU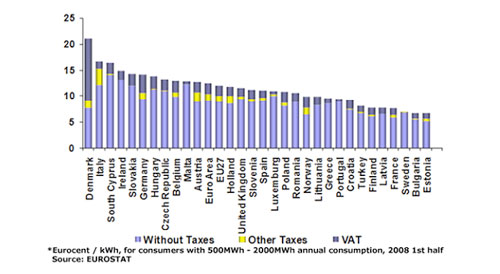 Energy prices in Turkey (EUR 0.082/kWh) are very competitive with respect to the global market.

1.d. Pipeline Projects in Turkey

Turkey's priority is to secure its energy resources. In order to achieve this goal, Turkey is carrying out many pipeline projects for both natural gas and oil. Once they are completed, the following projects will provide secure energy resources for both Turkey and Europe.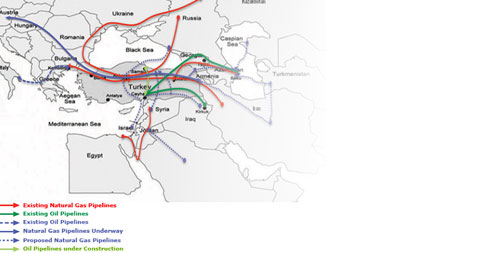 • Baku-Tbilisi-Ceyhan* COPL Project
• Turkey-Greece NGTL Project
• Transcaspian Turkmenistan-Turkey Europe NGTL Project
• Azerbaijan-Turkey NGTL Project
• Iraq-Turkey NGTL Project
• Egypt-Turkey NGTL Project
• Turkey-Bulgaria-Romania-Hungary-Austria NGTL Project (Nabucco Project)
• Eastern Black Sea NGTL
• Western Black Sea Project
• Natural Gas Underground Storage Project

*Construction of the Baku-Tbilisi-Ceyhan pipeline was completed in 2005. The annual carriage capacity of this pipeline is 50 million tons of crude oil. It is an internationally recognized facility which is transporting Caspian crude oil to the Mediterranean region via Turkey.

2. TELECOMMUNICATIONS INFRASTRUCTURE
Telecommunications Infrastructure

Mobile Telephone Subscribers

66 million

PSTN Capacity*

21 million

Internet Users

30 million

Broadband Subscribers

6 million

*Public Switched Telephone Network

Source: Ministry of Transport and Communication (2008)
Communication Technology (voice and data)
(0: Does not meet business requirements - 10: Meets business requirements)

Turkey

7.50*

Italy

6.97

Bulgaria

6.88

Greece

6.66

Ukraine

6.00

Poland

5.69

Ireland

5.08

Source: IMD World Competitiveness Yearbook 2009


* Communications technology (voice and data) meets business requirements.

The telecommunications sector in Turkey has evolved considerably in recent years, starting with the privatization of 55% of Turk Telekom stocks. The diversification of services within the telecommunications sector via mobile phones and the Internet has created new economies that form attractive areas for further investments.

3.Transportation Infrastructure
Transportation Infrastructure

2008

Air Passengers

80 million

Airports

45 (16 international)

Highway

64,033 km

Railway

10,991 km

Seaway Capacity

243.5 million tons/year

Air cargo Capacity

1.5 million tons/year

Source: Ministry of Transport and Communication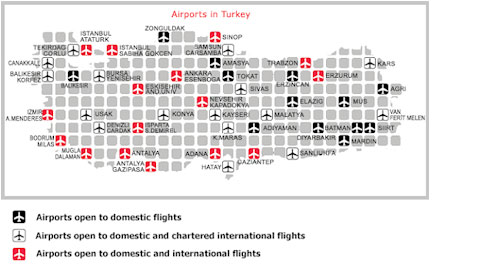 Turkey's advantages include its logistics industry, which has developed significantly since its entry into the EU Customs Union. Its geographic, physical and corporate infrastructure is one of the key attractions for potential investors, as seen below:

• The length of divided highways reached 14,546 km at the end of 2008.
• In order to develop a more efficient railway transport infrastructure, the five year plan, covering the period 2007-2013, aims to renew 1,000 km and construct 938 km of railroad.
• In 2008, international flight passenger traffic reached 41million. Domestic flight passenger traffic reached 34 million, with an annual average increase of 30% in the last five years.
• Turkey's proximity to major markets such as the CIS, the Middle East and North Africa means that 1.5 billion consumers can be easily reached.
• Important reductions in airline costs and price levels were made possible by rescinding a special consumption tax on aircraft fuel. Accordingly six firms started domestic operation in the last few years to meet the increasing demand for air travel.
• Turkey has a pivotal role in connecting Pan-European transport corridors to Central Asia. Additionally, the Mediterranean basin, to which Turkey is a natural conduit, has gained greater prominence in both East-West and North-South connections.
• The national road and railroad networks are completely integrated into the Eurasian infrastructure. The Silk Road connection project will ensure a uniform railway connection between Europe, the Middle East, the Turkic Republics, and the Far East through Turkey. Regular truck transportation and Ro-Ro ferry routes are continuing to increase logistic services capacity.
• Two important natural gas transport projects to Europe have been initiated. The first one is the "Interconnector", developed by Turkey, Greece and Italy; the Turkey-Greece section was completed and is already transporting natural gas to Greece, while the Greece-Italy section is under construction. The second one is the "Nabucco" project, which will deliver natural gas across Turkey to the European markets by connecting Caspian region and the Middle East via Turkey, Bulgaria, Romania and Hungary with Austria and further on with the Central and Western European gas markets.

Turkey completed the requirements for the efficient and cost effective shipment of goods with its high performance infrastructure, reliable transportation services and strategic location in the region.
Efficiency in the Distribution Infrastructure of Goods and Services

(0: Inefficient – 10: Efficient)

Turkey

6.23

Greece

6.42

Ukraine

5.73

Poland

5.68

Romania

5.25

Italy

5.21

Russian Federation

5.07

Bulgaria

4.98

Source: IMD World Competitiveness Yearbook 2009
Source: www.invest.gov.tr