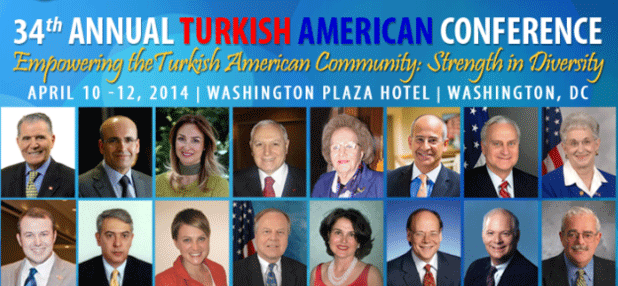 ABD'deki en büyük çatı derneklerinden biri olan Washington, DC merkezli Amerikan Türk Dernekleri Asemblesi (ATAA) tarafından bu yıl 34'ncüsü organize edilen ''Türk-Amerikan Konferansı'', 10-12 Nisan tarihleri arasında Washington Plaza Hotel'de gerçekleştiriliyor. Bu yılki konferansa Maliye Bakanı Mehmet Şimşek, CHP milletvekii Mehmet Haberal, Coca Cola'nın Muhtar Kent'ten sonraki ikinci ismi ve Coca-Cola International'ın yönetim kurulu başkanı ve Executive Vice President'i olarak görev yapan Ahmet C. Bozer, ATAA'nın kurulduğu 1979'da Washington Büyükelçisi olarak görev yapan Şükrü Elekdağ, Amerikan Kongre üyeleri Virginia Foxx, Steve Cohen, Ed Withfield, ABD Türkiye Büyükelçisi Francis J. Ricciardone, Türk Amerikan Dernekleri Federasyonu geçen dönemki başkanı Ali Çınar, Amerika Azerbaycan Dernegi Başkanı Tomris Azeri, Pax Turcica'dan Cavid Huseynov, lobi uzmanı Lydia Borland gibi isimler konuşmacı olarak katılıyor.
3 gun sürecek konferansta, Washington Plaza Hotel'deki toplantıların yanı sıra Büyükelçilik konutunda bir resepsiyon verilecek. Konferans, 12 Nisan'da gala yemeği ile sona erecek.
ATAA Executive Direktörü Lale Iskarpatyoti, 1979 yılından beri ABD'de güçlü bir diaspora yaratmak ve farklı Türk grupları bir araya getirmeyi amaçladıklarını, konferansın ABD geneline yayılmış Türklerin bir araya gelmek, iş ve sosyal anlamda bağlantı kurmak ve geliştirmek için büyük bir fırsat olduğunu söyledi.
Bu yılki konferansın temasının Türk-Amerikan toplumunun güçlendirilmesi, farklılıklardan güçlü bir toplum yaratma teması işleneceğine kaydeden Iskarpatyoti, konferansın en etkili sunumlarından birinin ATAA'nın Başkent Üniversitesi ile birlikte geliştirdiği online Türkçe dili eğitim programı olduğuna vurgu yaptı. ATAA geçen yılki konferansında da Coca Cola CEO'su Muhtar Kent ve UNPD eski başkanı Kemal Derviş'i ağırlamıştı. Bu yılki konferans geçen yıl başkanlık koltuğuna oturan Mehmet Çelebi'nin ATAA başkanı olarak ilk konferansı olma özelliği de taşıyor.
Konferansın ana sporluğunu ise Nevada merkezli Sierra Nevada Corporation, Turkcell, Turkish Coalition of America, Turkish Airlines ve Turkish Philanthropy yapıyor. Medya sponsorları arasında ise Turk Avenue'nun kardeş kuruluşu Turk of America dergisi de yer alıyor.