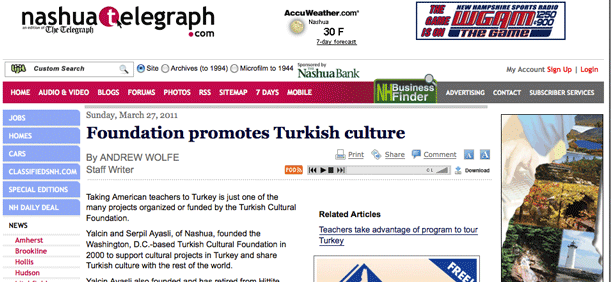 New Hampshire eyaletinin en büyük gazetelerinden biri olan The Telegraph (Nashua Telegraph) gazetesi Turkish Cultural Foundation'ın (Türk Kültür Vakfı) yaptığı çalışmaları öven bir yazıya yer verdi.
Andrew Wolfe imzası ile kaleme alınan haberde
, Türk kültürünün Vakıf aracılığıyla ABD'de tanıtıldığına dikkat çekildi. Vakfın Türkiye'ye Amerikalı öğretmenleri götürerek kültür turları düzenlediği vurgulandı.
Gazete haberinde, Yalçın ve Serpil Ayaşlı tarafından 2000 yılında kurulan Vakfın, Türkiye'deki kültürel projelere destek vermesinin yanı sıra Türk kültürünü dünyaya tanıtmada da önemli bir misyon üstlendiğinin altı çizildi.
Vakfın direktörü Güler Köknar ile yapılan görüşmeye de yer veren gazete, Amerikalı öğretmenleri Türkiye'ye gönderme projesinin ilk kez 2007 yılında başladığını ve gazetenin yayımlandığı New Hampshire eyaletinden Türkiye'ye giden ilk öğretmen grubunun ise geçen yıl tura katıldığını yazdı.
The Telegrap gazetesine tur ile ilgili görüşlerini yazan işadamı Yalçın Ayaşlı, Vakfın programa katılan öğretmenlerin eğitimine katkı sağlamaktan gurur duyduklarını söyledi.
Gazetenin görüştüğü Vakfın direktörü Güler Köknar, öğrenmenin bir ömür boyu sürdüğünü ve Amerikalı eğitimcileri Türkiye'ye götürerek hem öğrencilerin hem de öğretmenlerin medeniyetler hakkında daha fazla bilgi edinmesine imkan tanıdıklarına dikkat çekti.
Anadolu'nun tarihinin 10 bin yıllık bir maziye sahip olduğunu belirten Köknar, Anadolu'nun Çatalhöyük'teki ilk insan yerleşiminden Efes harabelerine, İpek Yolu'ndan Selçuklu Türklerine kadar zengin bir tarihe sahip olduğuna vurgu yaptı.
Turlarda bu tarihi mirasın öğretmenlere tanıtmanın önemine değinen Köknar, Amerikalı öğretmenlerin yeni kültürler ve ülkeleri keşfederek, kendi bilgi dağarcıklarını geliştirmelerinin öğrencileri daha bilgili yetiştirmelerine de imkan tanıdığını ifade etti.
Öğretmenlerin yanı sıra üniversite yöneticileri, müze direktörleri ve diğer kültürel liderleri de Türkiye'ye tur kapsamında davet ettiğini vurgulayan Köknar, kültürel değişimin hem ABD hem de Türkiye için önemli olduğunu dile getirdi.
Vakfın diğer projelerine de değinen gazete, arkeolojik araştırmalardan, sivil toplum kuruluşlarına verilen desteklere kadar bir dizi faaliyette bulunduğunu, web sitesi www.turkishculture.org vasıtasıyla da Türk müziği, yemeği ve kültürü hakkında bilgi verildiğini kaydetti.
Köknar, ''Herkes Türkiye'ye seyahat etme imkanı olmayabilir ama kesinlikle eğer zamanları varsa Türkiye hakkında bilgi edinebilirler,'' diye konuştu.
Ayaşlı çiftinin el dokuması halıcılığı yaşatmak için fon yarattıklarını da berlirten gazete, Vakfın İstanbul'daki Doğal Boya Araştırma ve Geliştirme Laboratuvarı (Natural Dye Research and Development Laboratory) kurulmasına öncülük ettiğini yazdı.