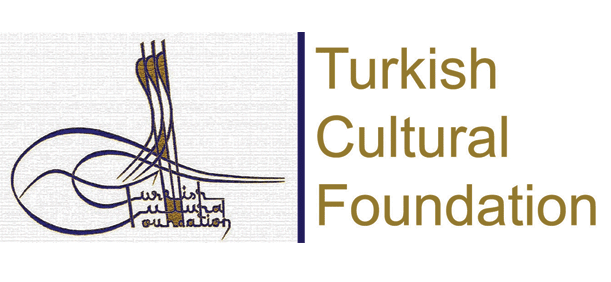 Washington, DC merkezli Turkish Cultural Foundation, 2010 yılında kültür ve sanat faaliyetlerine 2.1 milyon dolarlık kaynak sağladı. İşadamı Yalçın Ayaşlı'nın öncülüğünde kurulduğu 2000 yılından beri ABD'deki Türk kültürünün tanıtımına ciddi katkılar sağlayan Vakıf, adeta Türkiye'nin kültür ve turizm ofisi gibi çalışıyor. Direktörlüğünü Güler Köknar'ın yaptığı Vakıf 2010 yılı içinde eğitim projelerine 299 bin, kültürel etkinliklere 360 bin, kültürel değişim programlarına 622 bin dolar harcadı. Vakfın bütçesinde en fazla harcamayı Türkiye'ye düzenlediği kültürel turlara, Amerikalı öğretmenlerin Türkiye turları ile eğitimine harcadı. ABD'deki Türklerin doğudan batıya pek çok etkinliğine destek veren Vakıf, Boston, Washington, DC, Detroit, İstanbul'dan sonra son olarak California'nın Sonoma şehrinde de ofis açtı.
ABD genelinde 2005 yılından beri 22 Türk Amerikan okuluna destek veren Vakıf, son olarak 2010 yılında Türk Amerikan Kadınlar Birliği bünyesindeki New York Atatürk Okulu'na destek oldu. Okul New York'ta 40 yılı aşkın süredir Başkonsolosluk bünyesinde faaliyet gösteriyor.
Vakıf yine Dallas'ta kurulu Turkish American Association of North Texas derneğine de eğitim alanından katkıda bulundu. Verdiği burslarla Türk kültürüne yönelik yapılan araştırmalara ve yayınlara destek olan Vakıf, İstanbul'da kurulu Glass Furnace Foundation'ın da aralarında bulunduğu kurum ve kuruluşlara da destek oldu.
Üniversite seviyesinde ABD'de Türkçe dil öğrenimine de destek veren Turkish Cultural Foundation, Leland Standford Junior College ve Vassar College'e de bu konuda destek veriyor. Vakıf Amerika'nın saygın üniversitelerinden Stanford University'e yaptığı bağış ile okul bünyesinde Türk Dili ve Edebiyatı alanında ders verecek bir eğitmenin göreve başlamasını sağladı.
Vassar College ise Vakıf'tan aldığı kaynak sayesinde 2010-2011 öğretim yılında Türkçe'yi ''Self-Instructional Language'' programı dahilinde müfredata soktu.
Osmanlı Araştırmaları Vakfı'na da bağışta bulunan Vakıf, Harvard Üniversitesi bünyesinde Osmanlıca ve yaz okulu uygulamalarına Ayvalık Cunda'da devam etmesine imkan sağladı. Dört uluslararası öğrenciye burs veren Turkish Cultural Foundation, ünlü akademisyenlerce Türk ve Osmanlı tarihi üzerine Harvard'ta ders verilmesini sağladı.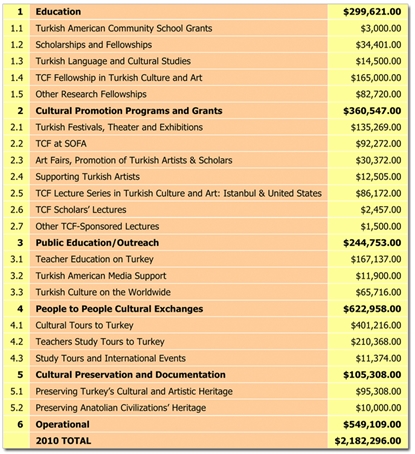 Son üç yıldır uygulamaya soktuğu program çerçevesinde, Türkiye'nin kültür ve sanatı ile ilgili araştırma yapan, yayın yapan
15 akademisyeni ödüllendirdi. Program kapsamında 2008 yılından beri 22 doktora öğrencisi, 16 doktora sonrası eğitim gören araştırma görevlisine destek sağlandı. Destek sağlanan araştırma görevlileri Kanada'dan Avustralya'ya kadar değişik ülkelerden oldu.
Kültürel etkinliklere de 2010 yılında destek olmaya devam eden Turkish Cultural Foundation, ABD'nin Boston, Charlotte, Chicago, Dallas, Ft. Lauderdale, Houston, Indianapolis, Monterey, New York, Philadelphia, Rochester ve Washington DC'de gerçekleştirilen festivallere destek oldu.
Vakfın sponsor olarak destek verdiği etkinlikler arasında 1st Children's Friendship Festival (Washington), 2nd Nazim Hikmet Poetry Festival (North Carolina), Balboa Park Urban Cultural Fest (California), 9th Boston Turkish Film & Music Festival, 12th New York Turkish Film Festival, 4th Milwaukee Turkish Film Festival, 6th Madison Turkish Film Festival, the Contemporary Turkish Cinema Festival at Cornell and Seattle TurkFest yer aldı.
Türk tiyatrolarına de destek olan Turkish Cultural Foundation, Ali Baba ve Kirk Haramiler ve Kesanli Ali Destani tiyatro oyunlarını destekledi. TurkofAmerica Dergisi 8. Yıl kutlamaları kapsamında 10 yıl aradan sonra ABD'ye konsere gelen Sezen Aksu'nun konser serisine de destek veren Turkish Cultural Foundation, New York Central Park'ta bu yıl ikincisi gerçekleştirilen Istanbulive etkinliklerinin de destekçisi oldu.