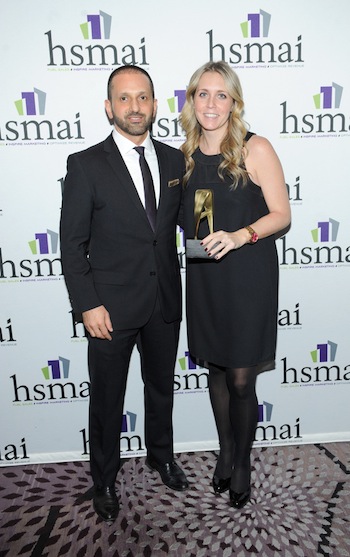 Uluslararası Seyahat/Ağırlama Satış ve Pazarlama Birliği (The Hospitality Sales and Marketing Association International-HSMAI) tarafından 58 yıldır duzenlenen, reklam ve halkla ilişkiler sektörünün Oscar'ı olarak kabul edilen Adrian Ödülleri'nde Türkiye halkla iliskiler kategorisinde, bir altın, iki gümüş ve bir bronz Adrian ödülüne layık görüldü. 34 milyon kisiye ulaşan makalelerin, reklam karşılığı değeri yaklaşık 2.5 milyon ABD Dolar tutarında.
Türkiye'nin New York Kültür ve Turizm Ofisi ve Türkiye'nin PR ajansı M. Silver/A Division of Finn Partners, 23 Şubat'ta New York Marriott Marquis Hotel'de düzenlenen törenle ödüllerini aldı. Travel + Leisure, dergisinde "Neighborhood by Neighborhood Istanbul" başlığıyla Anya von Bremzen tarafından yayınlanan 10 sayfalık yazı, Mayıs 2014 sayısında yer alan "European Hideaways: Alaçatı, Turkey" başlıklı haberle Türkiye'ye son beş yılda beşinci altın madalyasını kazandı. Bir başka moda dergisi Glow'un kapak ve iç sayfa çekimlerinin yapıldığı İstanbul temalı haberin yanı sıra New York Times ve Wall Street Journal'da yayınlanan makaleler Türkiye'de gümüş ve bronzo madalya kazandırdı.
Ödül töreninde New York Kültür Turizm Ataşesi Murat Karakuş ve Fatma Özsoy hazır bulunurken, dört farklı makale toplamda 34 milyon okuyucuya ulaşırken, reklam karşılığı 2.5 milyon doları buldu.