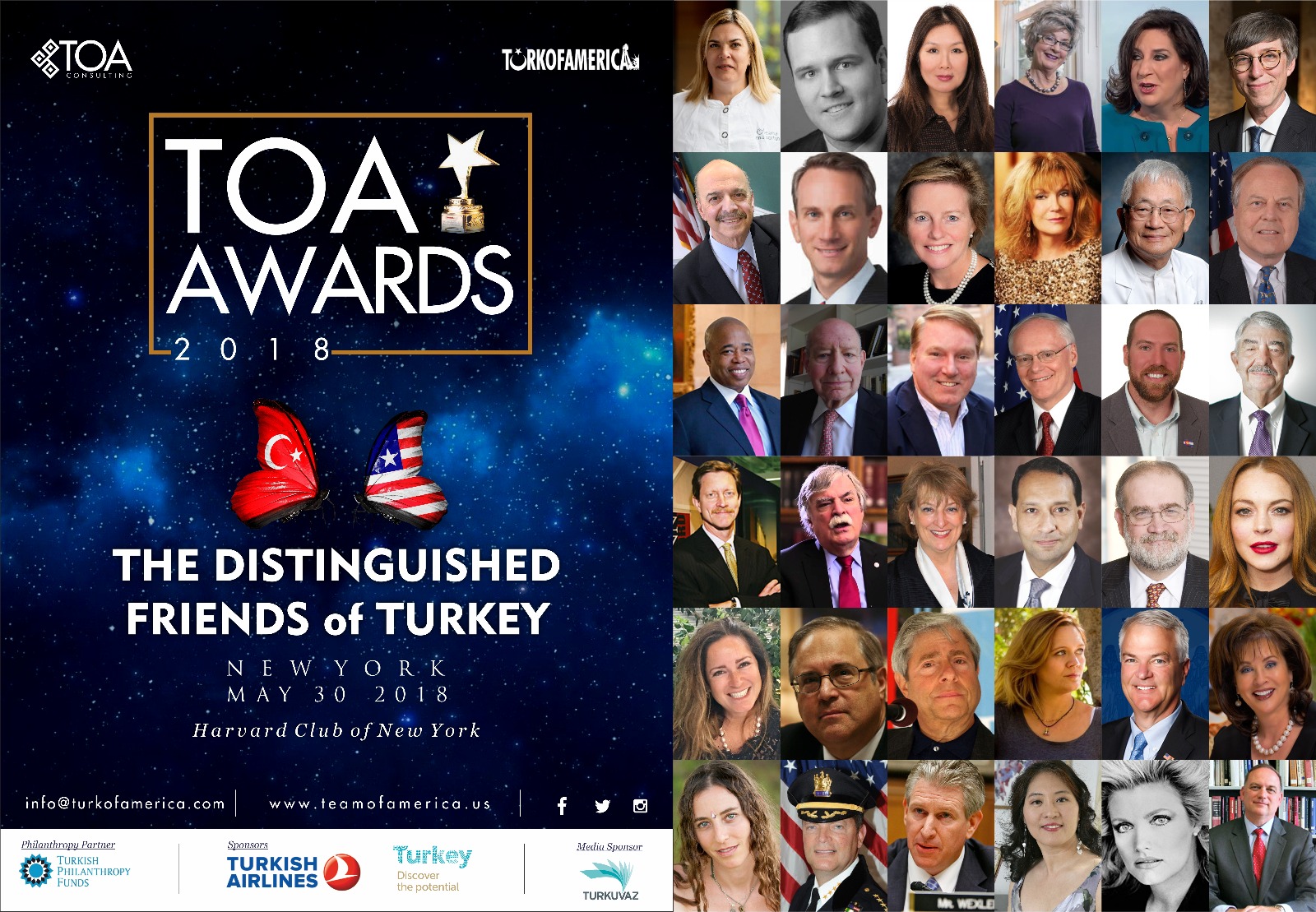 ABD'de 2002'den beri yayınlanan tek Türk dergisi TURKOFAMERICA ve TOA Consulting tarafından bu yıl dördüncüsü düzenlenen TOA ödüllerinin kazananları belli oldu. Bu yıl 'Türkiye dostu Amerikalılara' 31 farklı kategoride 38 kişi ve kuruma verilecek ödüller, 30 Mayıs'ta Harvard Club'ta düzenlenecek törenle sahiplerini bulacak. Daha önce ''Amerika'nın En Etkin 50 Türkü'nü'', ''En Başarılı 30 Türk-Amerikan Kadınını'' ve geçen yıl da ''40 Yaş Altı 40 Türkü''nü ödüllendiren TURKOFAMERICA & TOA Consulting, bu yıl da Türkiye dostu Amerikalıları ödüllendirecek.
Turkish Philanthropy Funds ve Türk Hava Yolları'nın destek verdiği gecede, ödül alanlar arasında Türkiye'deki Suriyeli mültecilere verdiği destekle bilinen sinema yıldızı Lindsay Lohan, Türk dostluğu ile tanınan Lola Zinke, Amerikan Kongresi'nde ilk dostluk grubunu kuran eski kongre üyeleri Robert Wexler ve Ed Whitfield, eski Türkiye büyükelçisi James Jeffrey, Truva kazılarına yaptığı katkılarla bilinen Dr Brian Rose, 1981 yılından beri Türkiye'de yatırımları bulunan TM American Borate Company'nin sahibi işadamı James Sparks, Karun Hazineleri'nin Metropolitan Müzesi'nden alınıp Türkiye'ye iadesini sağlayan Avukat Lary Kaye, Türkiye ile ilgili milli davalarda hukuki alanda mücadele eden David Saltzman, ünlü tarihçi Justin McCarthy ve Heath Lowry, Türkiye'nin ilk uluslararası accelerator (hızlandırıcılar) programının öncülerinden Jeff Engell, Türkiye'nin yıllardır Amerika'da fahri konsolosluk görevlerini yürüten Los Angeles fahri başkonsolosu Bonnie Joy Kaslan ve Atlanta Fahri Başkonsolosu Mona Diamond, Türk sermayeli şirketler kategorisinde Godiva CEO'su Annie Young-Scrivner, aktif politikada Richmond County, Staten Island Başsavcısı Michael McMahon ve Maryland Eyaleti Delegesi Dan K. Morhaim, edebiyat alanında ''Yes I Would Love Another Glass of Tea'' kitabının yazarı Katharine Branning, sosyal medya alanında Glen Gilmore, pek çok Türk nörolog yetiştiren Dr Shin Joong Oh, iki kez Grammy'e aday gösterilen 700'den fazla semfonı okrestrası ile sahne alan opera sanatçısı, eski Oklohoma güzeli Demetra George Mustafaoğlu, Türk diplomatların Nazi soykırımından kurtardığı Yahudileri anlatan ''Desperate Hours'' begeleselinin yapımcısı Victoria Barrett, Turkish Philanthropy Funds'ta bir fon oluşturarak Amerika'da ekonomi üzerine eğitim alacak bir kız öğrenciye üniversite eğitimi için burs imkanı sağlayan George Schieber, Boston'da Gaziantep yöresi yemekleri de sunan bir dizi restoranın sahibi; Soframiz: Vibrant Middle Eastern Recipes ve Spice: Flavors of the Eastern Mediterranean isimli kitapların da yazarı Ana Sortun, HSBC Global Asset Management CEO ve Bölgesel Başkanı Deborah A Hazell, JP Morgan üst düzey yöneticisi Andrew F Littlejohn gibi 38 isim yer alıyor. TOA topluma katkı özel ödülleri de New York'ta avukatlık yapan Mark Meirowitz ve New Jersey'de Türklerin yoğunlukta yaşadığı eyaletlerden Passaic bölgesinin şerifi Richard H Berdnik'e verildi.

Ödül töreni ile ilgili konuşan TURKOFAMERICA Dergisi Kurucu Ortağı ve Genel Yayın Yönetmeni Cemil Özyurt, Türk-Amerikan ilişkilerinin en zorlu olduğu dönemde çalışmaları ve faaliyetleri ile her dönem Türkiye'ye ve Türkler'e dostluğu ile bilinen isimleri ödüllendireceklerini söyledi. Yaklaşık 25 kişilik bir ekiple yoğun bir çalışma sonucu ödül alacak isimlerin belirlendiğini kaydeden Özyurt, akademi, iş dünyası, arkeoloji, edebiyat, finans, teknoloji gibi 17 farklı kategorilerde verileceğini vurguladı. Özyurt, 2015 yılında Amerika'nın En Etkin 50 Amerikalı Türk'ünü, 2016 yılında Amerika'nın En Etkin 30 Türk Kadınını, geçtiğimiz yıl da Amerika'nın Etkin 40 Yaş Altı 40 ismini ödüllendirdiklerini hatırlattı.

Etkinliğin organizasyonunu üstlenen TOA Danışmanlık yöneticisi Cüneyt Gürkan da, New York Harvard Club'ta 30 Mayıs'ta düzenlenecek ödül gecesinde 250'ye yakın davetliyi ağırlayacaklarını söyledi. Gürkan, New York merkezli kar amacı gütmeyen hayır kuruluşu Turkish Philanthropy Funds'un ve Türk Hava Yolları'nın desteklediği gecede açık artırmalardan elde edilecek gelirin de Türkiye'de gerçekleştirilecek hayır projelerine aktarılacağını kaydetti.

Ödül sahipleri, Türk-Amerikan toplumunun önde gelen isimlerin yer aldığı 18 kişinin juri tarafından belirlendi. Juri üyeleri arasında TAİK Başkanı Mehmet Ali Yalçındağ, Turkish Heritage Organization Başkanı Ali Çınar, American Turkish Business Development Council Başkanı Uğur Terzioğlu, Türk-Amerikan İşadamları Derneği (TABA) Başkanı Ali Osman Akat, Golden Globe juri üyesi gazeteci Barbaros Tapan, Turkish Coalition of America Başkanı Lincoln McCurdy, Turkish Philanthropy Funds Başkanı Mehmet Kırdar, Demokratik Parti New American Caucus Başkanı işadamı, aktivist Murat Güzel, TACCI eski Başkanı ve Dünya Türk İş Konseyi ABD eski Başkanı Celal Seçilmiş, TAVAK Başkanı Prof Faruk Şen, müzisyen Fahir Atakoğlu, Türk-Amerikan Yönlendirme Komitesi Eş Başkanı Halil Mutlu, Türk Amerikan Bilimadamları ve Akademisyenleri Derneği (TASSA) Başkanı Prof Haluk Ünal, MÜSİAD USA Başkanı Mustafa Tuncer, Hürriyet Gazetesi New York temsilcisi Razi Canikligil gibi isimler yer alıyor.
ÖDÜL KAZANAN İSİMLER
- Aktif Politika: Richmond County, Staten Island Başsavcısı Michael McMahon – (New York, NY) ve Dan K. Morhaim, Maryland House of Delegates. – (Annapolis, MD)
- Arkeoloji: Dr Brian Rose, Truva kazıları ile tanınan ve bu alanda sayısız eser kaleme alan Penn Arts & Sciences öğretim görevlisi. – (Philadelphia, PA)
- Bankacılık: Andrew F Littlejohn, Executive Director, JP Morgan – (New York, NY)
- Belediye Başkanı: Eric Adams, Brooklyn Borough President - (New York, NY)
- Belgesel: Victoria Barrett, "Desperate Hours" (Umutsuz Saatler) – (New York, NY, NY)
- Düşünce Kuruluşu: Brenda Shaffer, Global Energy Center, (Washington, DC) William J. Parker III, East West Institute – (New York, NY)
- Edebiyat: Katharine Branning, ''Yes I Would Love Another Glass of Tea'' kitabının yazarı. – (New York, NY)
- Emlak: Jonathan N Stark, Managing Partner for Overseas Operations and Principal of Perkins Eastman Architects – (New York, NY)
- Etnik Toplum Lideri: Soh Young Lee-Segredo, Kore Amerikan – (New York, NY)
- Fahri Konsolos: Bonnie Joy Kaslan, (Los Angeles) Fahri Başkonsolosu – (Los Angeles, CA) ve Mona Diamond, Atlanta Fahri Başkonsolosu – (Atlanta, GA)
- Finans: Deborah A Hazell, CEO and HSBC Global Asset Management Bölgesel Başkanı – (New York, NY)
- Gönüllü Toplum Hizmeti: Patsy Jones, Board member of American Turkish Association- (Washington, DC)
- Health - Dr Shin Joong Oh, MD - Neurology (Birmingham, AL)
- Hukuki Alanda Türkiye Davaları: David Saltzman – (Washington, DC)
- İşadamı: James Sparks, President of the American Borate Company – (Virginia Beach, VA)
- Kongredeki Türk Dostları: Robert Wexler (Washington, DC) – New York ve Ed Whitfield – (Washington, DC)
- Profesyonel Hayat: Khush Choksy, Senior Vice President for Middle East and Turkey Affairs at the U.S Chamber of Commerce. – (Washington, DC)
- Sanat: Demetra George Mustafaoğlu – (Los Angeles, CA)
- Sanat Hukuku: Lawrence Kaye, Partner; Co-Chair, Art Law Group; Co-Chair, Turkish Practice Group. – (New York, NY)
- Sinema: Lindsay Lohan – (Los Angeles, CA)
- Sivil Toplum Örgütü: American Friends of Turkey (AFOT) – (Washington, DC)
- Sosyal Medya: Glen Gilmore, Sosyal medya pazarlama şirketi sahibi – (New York, NY)
- Tarih: Justin A McCarthy (Louisville, Kentucky), Prof Heath Lowry – (İstanbul, Turkey)
- Teknoloji: Jeff Engell – (San Francisco, CA)
- Toplum: Lola Zinke – (Washington, DC)
- Turizm: Marty Markowitz, Brooklyn eski belediye başkanı – (New York, NY)
- Türk Halk Müziği: Raquy Danziger (New York, NY), Meg Davis (Rotterdam, The Netherlands)
- Türk Mutfağı: Ana Sortun, Boston'da Türk yemekleri ile tanınan restoran zinciri sahibi – (Boston, MA)
- Türk Sermayeli Şirket Yöneticisi: Annie Young-Scrivner, CEO of Godiva – (New York, NY)
- Uluslararası İlişkiler: Büyükelçi James Jeffrey (Washington, DC)
- Yardımseverlik: George Schieber
- TOA Community Awards: Mark Meirowitz – (New York, NY), Sheriff Richard H Berdnik (Wayne, NJ), Turkish Airlines (New York, NY)

JURİLER
Ali Çınar, President of Turkish Heritage Organization
Ali Osman Akat, Turkish-American Business Associations (TABA)-AmCham
Ahmet Köse, CEO, BAU Global
Barbaros Tapan, Dogan Media Group Los Angeles Representative, Golden Globe Juror
Burak Küntay, President of Center for American Studies at Bahcesehir University, Istanbul
Celal Seçilmiş, Executive Board Member, Former Chairman of the America Region Committee, World Turkish Business Council
Faruk Şen, Prof Dr. President of Turkish-European Foundation for Education and Science
Fahir Atakoğlu, Pianist and composer
Halil Mutlu, Co-Chairman of Turkish American National Steering Committee
Haluk Ünal, Prof., President and Chairman of the Board, Turkish American Scientist & Scholars Association
Kenan Çağlar, President of Assemble of Turkish American Associations
Lincoln McCurdy, President of Turkish Coalition of America
Lydia Borland, President, LB International Solutions LLC
Mehmet Kırdar, Chairman of Turkish Philanthropy Funds
Mustafa Tuncer, President of MÜSİAD USA
Oya Bain, Secretary General of TASC, Activist,
Razi Canikligil, Hurriyet Turkish Newspaper New York & U.N. Correspondent
Uğur Terzioğlu, Founder President of American Turkish Business Development Council
SEÇİCİ KOMİTE
Cemil Özyurt, Co-founder and Editor-in-Chief of TURKOFAMERICA Magazine
Demet Cabbar, Financial Officer, Development Finance, World Bank. Former President, ATA-DC
Jimmy Cüneyt Gürkan, COO of TOA Consulting Group LLC
Mustafa Oğuz Aykaç, TurkofAmerica Magazine Boston Representative
Ali Günertem, Member of TURKOFAMERICA Magazine Advising Committee,