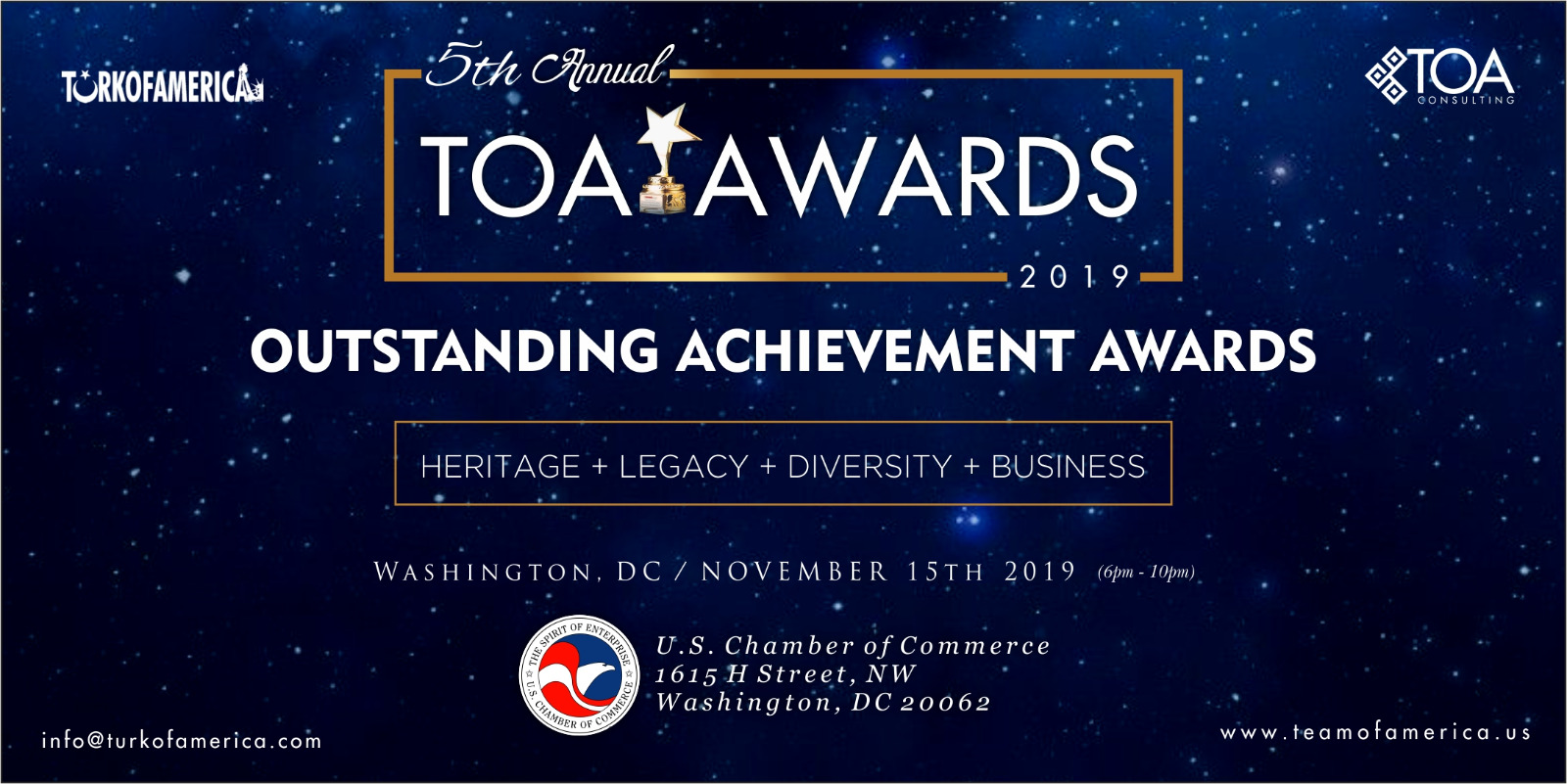 Amerika'daki başarılı isimlere 2014 yılından beri farklı kategorilerde ödüller veren TURKOFAMERICA Dergisi, bu yılki ödül alacakların isimlerini açıkladı. TOA Danışmanlık tarafından U.S. Chamber of Commerce iş birliği ile 5th TOA Üstün Başarı Ödülleri (Outstanding Achievement Awards, Heritage + Diversity + Legacy + Business) adıyla organize edilen etkinlik, bu yıl Amerikan Ticaret Odası'nın Washington, DC'deki tarihi binasında 15 Kasım'da gerçekleştirilecek. Ödül töreninde üç sanatçının eserleri sergilenecek ve elde edilecek gelirin bir kısmı kâr amacı gütmeyen bir kuruma bağış yapılacak.

Bu yılki alacak isimler arasında Amerika eski içişleri bakanı Ryan Zinke, Azerbaycan Washington, DC Büyükelçisi Elin Süleymanov, Emmy ödüllü gazeteci, NBC ve MSNBC haber spikeri Kendis Gibson, Pepsi Co. Kıdemli Başkan Yardımcısı Ümran Beba, Nashville'in en gözde çağdaş sanat merkezlerinden Oz Arts Nashville'in CEO'su Murat Özgener, elektronik medikal kayıt alanında yaptığı çalışmalar ile bilinen ve Delaware ve Orta Atlantik bölgesinin en büyük özel sağlık ağ sistemi kurucularından biri United Medical'in sahibi Kemal Erkan, Atlantik Konseyi Kıdemli Danışmanı ve Gündoğdu Vakfı Yönetim Kurulu Başkanı Dr. Gökhan Gündoğdu, Unity Bank President, CEO'su James Hughes, Türkiye'den dünyaya en fazla film ve dizi ihracatı gerçekleştiren Global Agency şirketinin kurucusu işadamı İzzet Pinto, Turkish Coalition of America'nın President'i G. Lincoln McCurdy, Los Angeles merkezli özel sermaye fon şirketi Trans Global Financial Corp'un kurucusu ve CEO'su ve aynı zamanda Ellis Island Onur Madalyası sahibi ilk Türk olan işadamı Mehmet Mustafaoğlu, Amerika'da doğal taş, medya ve perakende sektöründe sahip olduğu şirketlerle tanınan işadamı Mustafa Tuncer gibi 13 farklı isim yer alıyor.

Törende 2002 yılından beri TURKOFAMERICA dergisine katkı ve destek sağlayan isimlere de Friends of TURKOFAMERICA özel ödülü verilecek. Ödüller TURKOFAMERICA seçici kurulu tarafından belirlenip juri üyelerine sunuldu. Yaklaşık 6 aylık bir çalışmanın ürünü olan ödül töreninin 2018 yılındaki galası New York'taki Harvard Club'ta yapılmıştı. Törende Türkiye dostu 30 Amerikalı ödüllendirilmişti.

Ödül törenlerinde bu yıl ilk kez Türk-Amerikalıların yanı sıra Amerika'nın ekonomik, sosyal ve kültürel hayatına katkı sağlayan Amerikalı ve diğer etnik kökenli gruplara da ödül verdiklerini belirten TURKOFAMERICA Dergisi Kurucu Ortağı ve Genel Yayın Yönetmeni Cemil Özyurt, iki ülke arasında ilişkilerin çok gergin olduğu bir dönemde böyle bir etkinlik yapmanın zorluğuna dikkat çekti. ''İki ülke arasında ilişkilerin gerginleşmesi bu tür etkinliklerden insanları alıkoymamalı. Amacımız geleneksel hale getirdiğimiz ödül törenini farklı etnik gruplara ve Amerikalılara da açmaktı. Geçen yıl Türkiye dostu 30 Amerikalı'yı ödüllendirmiştik. Bu yıl da farklı alanlarda Türkler 'in dışında Amerika'ya katkı sağlayan başarılı isimlere yer verdik. Gelecek yıl kategorileri daha da büyüterek yolumuza devam edeceğiz,'' dedi.

TOA Danışmanlık ortaklarında Jimmy Cüneyt Gürkan da Hulis Mavruk, Tony Şeker ve Esin Kösoğlu'nun eserlerini ödül töreni öncesinde ve tören sırasında sergileyeceklerini ve elde edilen gelirin bir kısmı ile kâr amacı gütmeyen bir kurum vasıtasıyla bağışlayacaklarını söyledi. Bu yıl ilk kez ödül organizasyonunu New York dışında bir şehirde gerçekleştirdiklerine vurgu yapan Gürkan, ödül törenlerini Amerika geneline yayarak daha farklı kitlelere ulaşmak istediklerini vurguladı. U.S. Chamber of Commerce binasında gerçekleştirilecek ödül törenine yaklaşık 250 kişinin katılması bekleniyor. Bilet ve diğer detaylara bu linkten ulaşabilirsiniz.
https://www.eventbrite.com/e/toa-awards-2019-outstanding-achievement-awards-heritage-legacy-diversity-tickets-76432320127?aff=TOAAwards2019